Opening Day, Aug 10 – Mizzou Day, presented by the University of Missouri
The 121st Missouri State Fair begins this Thursday, Aug. 10, in Sedalia! Join us on Opening Day, Mizzou Day, presented by the University of Missouri, with $7 gate admission for fairgoers age 13 and older, $2 admission for ages 6-12, and free admission for kids 5 and under. Select concession stands and vendors will offer Opening Day specials.
The day's sponsor, University of Missouri, will offer great exhibits and activities by the University's colleges and programs each day of the Fair in the Mo-Ag Theatre/Mizzou Central. Missouri Soybean Association will feature their soy donuts, Buck's will be selling the popular Tiger Stripe Ice Cream and the Tiger Team Store will have you ready for Mizzou game day.
The day will kick off with the Opening Day Ceremony as the first official State Fair event, beginning at 11 a.m. on the south side of the Agriculture Building. The Marshall Municipal Band will perform and special guests will include youth representing the Boys and Girls Club of West Central Missouri, who will spend the remainder of their day at the Fair enjoying entertainment, delicious Fair foods, carnival rides and more.
The 2023 Missouri State Fair Queen Pageant and Coronation will take place at 1 p.m. in the Mathewson Exhibition Center, followed by the Opening Day Parade later in the evening at 6 p.m. Parade entries will include antique and classic cars, farm vehicles, the Smith-Cotton Marching Band, equine, and various Fair-themed entries.
The Fair is proud to honor our active duty military and veterans through our Military Flag Retreat Ceremony, sponsored by Capital Materials, Retrieving Freedom and Starline Brass. The first ceremony will take place on Opening Day, honoring Steve Hubbard of Adrian, MO. The ceremony will be held at 5:15 p.m. with a flag lowering and presentation at the flagpole in front of the Historic Administration Building.
Free entertainment for all ages will be offered Opening Day from live music on the Budweiser and Superior Sleep Stages to entertainment acts on the Touchstone Energy Stage and Kids Stage, sponsored by your Local McDonald's, as well as various performances across the fairgrounds. Additional activities include the Farm Toy Show from 9 a.m. to 9 p.m. in the Lowell Mohler Assembly Hall and Cowboy Mounted Shooting, sponsored by Starline Brass, at 6 p.m. in the Mathewson Exhibition Center.
Tyler Hubbard with Parmalee will kick off the 2023 concert series in the State Fair Grandstand, presented by CFM Insurance, at 7:30 p.m. In the State Fair Arena, the MRCA Show-Me State and Rodeo starts at 7 p.m. Tickets for both the concert and the rodeo are available for purchase, while supplies last.
Mizzou Day is a great day to visit the Missouri State Fair! We hope to see you Aug. 10-20 in Sedalia. For more information about concerts, events, contests and other Fair activities, visit mostatefair.com.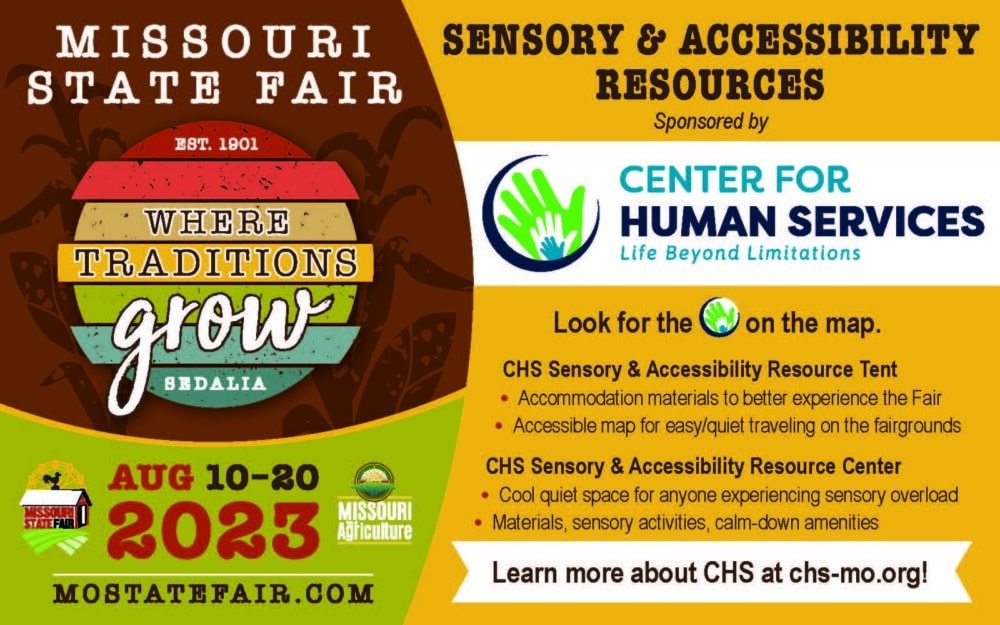 Budweiser Stage
Get ready to listen to some great live entertainment on the Budweiser Stage at the 2023 Missouri State Fair!
Here's this year's line-up:
Thursday, Aug 10
The Nace Brothers, 4 & 6 p.m.
Queen's Boulevard 8 p.m.
Friday, Aug 11
Clay Clear Band, 4 & 6 p.m.
Soul Root, 9 p.m.
Saturday, Aug 12
Cedar Creek, 4 & 6 p.m.
Honky-Tonk Dream, 9 p.m.
Sunday, Aug 13 – Monday, Aug 14
Supermatics, 4 & 6 p.m.
Tuesday, Aug 15
The Vincents, 4 & 6 p.m.
Madd Hoss Jackson, 8 p.m.
Wednesday, Aug 16
Eastern Heights, 4 & 6 p.m.
Twisted Fate, 8 p.m.
Thrusday, Aug 17
Travis Marvin, 4 & 6 p.m.
Cedar Creek, 8 p.m.
Friday, Aug 18 – Saturday, Aug 19
Phil Vandel, 4 & 6 p.m.
Dirt Road Addiction, 9 p.m.
Sunday, Aug 20
Supermatics, 4 p.m.
New to the Budweiser Stage this year is the Show-Me Showcase, presented by 16/65 Digital, featuring after school rock band lesson programs with shows at 2 p.m. on Aug. 10-13 and 16-19.
Find out more about all the great entertainment planned for the Budweiser Stage, including more information on the bands, on the Fair's website.