Don't walk, RUN to your nearest Break Time Convenience Store or Orschlen Farm and Home Store to get your advanced tickets now! Advance tickets must be purchased by today, Aug. 10.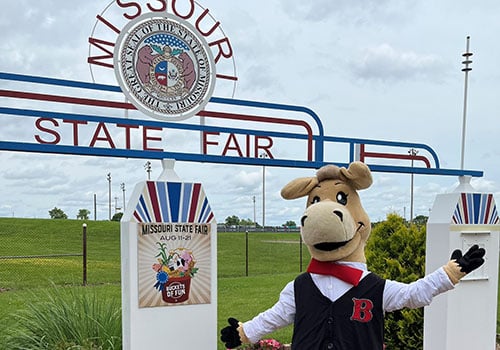 Advance admission and carnival ticket prices are:
Advance adult admission tickets – $10 ($12 value)
Advance Unlimited Carnival Ride Wristband ticket – $24 ($35 value)
Advance Unlimited Daily Deal (includes one-day unlimited carnival ride wristband and one-day adult admission) – $34 ($47 value)
You won't want to miss these savings! Get your tickets now and we will see you at the 2022 Missouri State Fair Aug. 11-21. It will be "Buckets of Fun" for the whole family!
It's About Fair Time
The 2022 Missouri State Fair is gearing up to kick off Thursday, Aug. 11! Tents big and small, concession and vendor stands, the carnival and exhibit buildings are starting to come to life all around the fairgrounds. Dustgard, sponsored by Scotwood Industries, was applied to the grounds in an effort to prevent dust while fairgoers have "Buckets of Fun." Livestock has started to move into the barns and competitive exhibit buildings are filling up with award-winning entries. It is amazing to see everything come together for Missouri's largest agricultural expo!
Fair staff like to say, "It takes a village," and it sure does. We can't wait for you to come see it all up and running during the 11 days of the Fair. Be sure to check out the Fair's website for daily schedules and to plan how you will fill your bucket to ensure that you have "Buckets of Fun" at the 2022 Missouri State Fair, Aug. 11-21, in Sedalia.