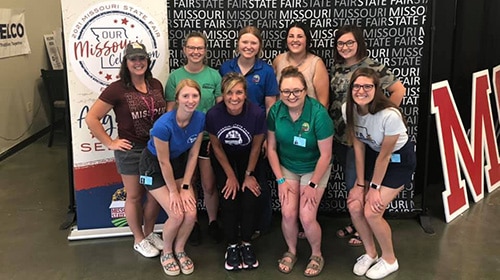 You can work at the fair!
The Missouri State Fair hires hundreds of adults and young people each year to play important roles in helping Missouri residents and tourists enjoy summer fun.
Check back soon for 2023 employment applications.
Personnel Office Hours
TBD
Marketing Internship Opportunity
HOW TO APPLY
Apply for Marketing Internship on MO Careers website.
GOT QUESTIONS?
Contact Kari Mergen, State Fair Marketing Director
660.530.5611 – Kari.Mergen@mda.mo.gov
DEADLINE TO APPLY
Application & required materials must be submitted by December 15, 2022.
Qualified applicants will be contacted by December 22 and asked to participate in an interview on the fairgrounds and complete a writing and design exercise, as well as submit a portfolio of work.
WHO SHOULD APPLY?
College students pursuing a major in communications, public relations, agriculture, advertising or journalism, looking for real-life experiences. Ideal candidates are passionate about agriculture and creative communications, detailed-oriented, thrive under pressure and find the opportunity in every challenge!
PAY & BENEFITS
Position currently pays $15 per hour.
Average of 40 hours a week & 40+ hours a week during the11-day Fair.
The internship will begin June 1, 2023 and ends August 20, 2023.
Limited meals may be provided during the 11-day Fair.
Free housing can be included on the Fairgrounds, which consists of one bedroom and bathroom.
THE EXPERIENCE
Duties may include:
Media relations
Special event & contest planning/execution
Public relations activities including extensive e-newsletter & press release writing
Social media administration
Corresponding with a variety & types of people via telephone, email and direct mail
Agriculture education opportunities
Promotional materials design & distribution
General office work & other duties as assigned