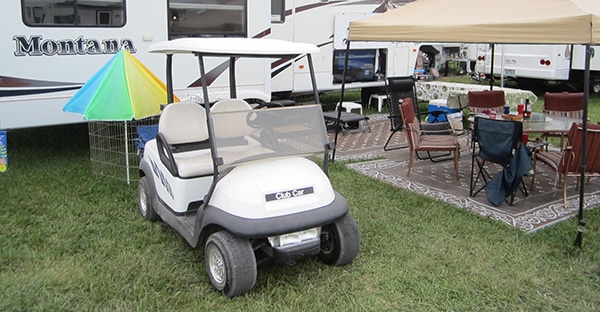 Location: West of the fairgrounds on Clarendon Road
Size: 60-acre campground
Capacity: The 60-acre campground is located west of the fairgrounds on Clarendon Road. Unreserved spot rental is $35 per day, per vehicle/unit. There are approximately 60 full hook-up sites available for first-come, first-serve. These spaces are in the white section and offer 50-amp service. Once the approximately 60 spaces are full, dry camping will be offered. All types of camping units are accommodated, including tents. Other amenities include three sewage waste dump stations, restrooms, shower facilities and free Wi-Fi, provided by GoNetspeed.
Pricing
Unreserved spot rental is $35 per day (per vehicle/tent).
Major credit cards accepted at Public Campgrounds.
Campground Amenities
Three sewage waste dump stations
Restrooms
Shower facilities
A pedestrian underpass located near the campground exit connects the campground to the fairgrounds. Fair Admission will be charged to those entering the fairgrounds via the tunnel. Wristbands are available with regular Fair admission to allow convenient access between the campground and fairgrounds throughout the day.
Absolutely no coolers with alcoholic beverages will be allowed within the inner gates of the fairgrounds.
Public Camping Line Up Process
The public campground will open by 9 am on Friday, Aug. 4.
The public camping line up process will not start any earlier than the morning of Friday, Aug. 4.
Starting at 7 am, Friday, Aug. 4, campers will be allowed into the fairgrounds to line up for camping. All campers (including long-term reserved campground permit holders who come at this time) MUST enter the fairgrounds at the Centennial Gate, or Gate 12, located on 65 Highway. This gate will remain open until 6 p.m. After 6 p.m., all campers may enter the campgrounds directly through the main campground entrance on Clarendon Rd.
Please note – No early line up will be allowed and no early permits will be distributed. In the interest of public safety, the Missouri State Fair reserves the right to open the entrance gate prior to 7 a.m., Friday, Aug. 4 should staff deem it necessary.
Permits will be given to camping units only (motor homes or vehicles pulling campers); other vehicles (without campers) lining up to save a space will not be issued a camping permit.
Payment may be cash or credit cards (Mastercard, Visa, Discover and American Express) Credit card payments will be charged 2% plus $0.25 service charge.
No campers may be left in the line-up area unattended.
The public campground will open by 9 am, Friday, Aug. 4, and campers will be accepted in the order of their permit number.
To expedite the process, campers are encouraged to have their form of payment ready and to also download and fill out the emergency contact form below.
Public Campground Rules
General Information
Campground is open 24 hours each day.
Check out time is 8:00 p.m.
Pay for entire stay as you enter.
You may purchase one permit for your camper; no purchasing of additional permits will be allowed.
Cash and major credit cards accepted.
No refunds.
Use tunnel as exit to enter fairgrounds.
Campground is patrolled by Missouri State Highway Patrol and State Fair Campground Security.
The Fair does not necessarily provide ample space for evacuation for all patrons should the campgrounds be at capacity.
Upon final departure all permits are to be returned to the personnel at the exit gate.
Visitor Regulations
A maximum of one visitor permit will be issued per campsite at one time. Permits must be obtained at the campground entrance.
Visitors must have permit to enter or exit campground- permit must be attached to rearview mirror of vehicle at all times.
Visitors will be charged a fee of $10.
Visitors must park in designated areas. Parking is limited; visitors may park on a first-come, first-serve basis. Once lots are full, visitors must park in general parking.
Rules & Regulations
Campground's speed limit is 5 MPH.
Camping permits must be attached to lower left side of windshield at all times.
Exit and re-entry allowed only with permit attached to windshield.
Transfer of permit from one vehicle to another is not allowed.
A copy of the camping permit must be maintained in the RV at all times and must be presented upon exiting the campground.
Campers and tow or towed vehicles must be parked in line making the best use of space, electric and water connections as directed by campground staff.
Reserving or holding campsites is not permitted.
Quiet hours will be observed from 11 p.m. to 7 a.m. All radios, stereos, and all other audio equipment must be turned down during this time. No loud music is permitted to be played or broadcast at any time during quiet hours; all minors must be at their own site at quiet hours.
No campfires.
An adequate fire lane must be maintained at all times.
No person under the age of 21 shall possess or consume alcoholic beverages within the campground. Anyone who possesses or consumes alcoholic beverages must provide identification and proof of age upon request.
Responsible adult(s) will be held liable for any vandalism by minor children and will be required to pay for any damages.
Firearms, paint guns, fireworks, explosives and weapons are prohibited and will result in the loss of camping privileges.
All persons shall comply with all lawful instructions of the campgrounds staff or any police/security officer.
All vehicles must exit through exit gate and enter at entrance gate.
Tampering with utilities is prohibited. Opening, modifying or otherwise tampering with electric pedestals or other utilities will result in expulsion from the campground with no reimbursement of fees or expenses.
Only one electrical outlet per camp-site allowed.
In the event electrical circuits are overloaded, Missouri State Fair management reserves the right to curtail electrical service during exceptional demand periods.
Golf cars only (no ATVs or UTVs) may be operated in the campgrounds in accordance with the Fair's policy, with a permit. The fee has been set at $100.00. Golf cars may not be operated on city streets or on the fairgrounds. Signed golf car policy acknowledgement MUST be turned in to Campground Host or Business Office.
Pets must stay inside paid camping area and be on a leash at all times. Be kind and clean up after your pet.
All holding tanks must be dumped at dump station, not on ground.
No vendors allowed except by contract with the Missouri State Fair.
Please leave your campsite as clean as you found it. Place trash into trash containers.
No swimming pools of any type are allowed in the campground.
Handicapped parking must have a permit visible at all times.
Tents must camp in designated tent camping area unless accompanying an RV or motorhome.
Your camping home, awning, tent, EZ-up, materials, etc. must be within the marked off and paid campsite.
Management reserves the right to make necessary changes in the rules and regulations to be in the best interest of the campground and to be in compliance with federal, state and local laws. Anyone refusing to abide by the rules and regulations or creating a disturbance will be asked to leave without refund. We reserve the right to refuse service to anyone.
A signed Code of Conduct form MUST be turned in to be eligible for camping privileges.
*Absolutely no coolers with alcoholic beverages will be allowed within the inner gates of the fairgrounds.
**No refunds. All problems regarding camping or fees must be directed to the campground office, located in the entrance booth on the north side of the public campground.
***In the event of circuit overloads, Fair management reserves the right to limit electrical service during exceptionally high-demand periods.
Sign Up for Updates
Text message updates on weather & other public safety concerns
The Missouri State Fair offers a voluntary email & SMS/text messaging service through GovDelivery. Sign up today to stay informed!