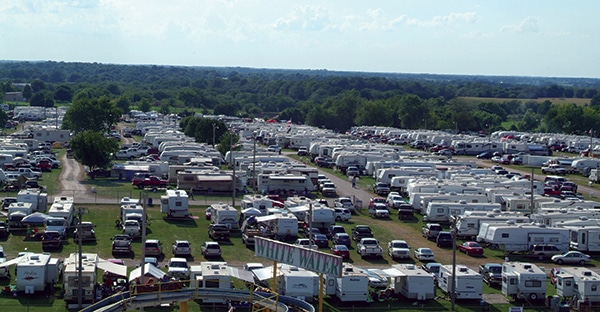 Livestock Camping Reservations Are Now Closed
If you have questions about the status of your reservation, please email campgrounds@mda.mo.gov.
Livestock Camping FAQ
Who is eligible for livestock exhibitor camping?
Individuals who are registered for exhibiting livestock at the State Fair. One campsite per household and/or mailing address is allowed.
How do I register for livestock exhibitor camping?
You may request reservations online, or submit a form via fax, beginning May 1 at 9 am.
For campers using the online reservation system:
The online portal will be available on this page starting at 9 a.m. on May 1 for the submission of exhibitor camping requests. You will receive an email once reservation has been made with instructions on how to pay for your site.
For campers using the downloadable and printable form:
The downloadable and printable form will be available on this page starting at 9 am on May 1. The form will need to be filled out in full, including payment information, and must be faxed to the Fair. Please only send the fax one time. Multiple submissions jam the fax machine and could result in multiple payments being processed.
Do I need to fill out the online reservation and fax in a paper form?
Campers should choose either the online reservation request system or fax in the paper form.
When will reservations open?
May 1 at 9 am.
Where will the form/online reservation system be available?
A download application option and link to the online reservation system will appear at the top of this web page on May 1 at 9 am.
How can I pay?
Credit card – Mastercard, Visa, American Express and Discover accepted.
Am I guaranteed a campsite in the livestock campground(s) if I submit a form or online reservation request?
Not necessarily. Campsites are filled on a first-come, first-serve basis and do typically fill fast.
What are the livestock camping locations that I can choose from when I submit the camping form or online reservation request?
There are six options to choose from – Lot 5/Exhibitor, Outer, Sheep, Beef, Beef Dry and Disabled.
What are the prices for those locations?
$22-$35 per day, per vehicle/unit depending on location.
If I don't get a campsite what happens?
A State Fair staff member will reach out to you via the email you list on the form regarding your options.
How do you choose who gets a campsite?
Campsites are assigned on a first-come, first-serve basis using the time stamp of the receipt of your request.
If I had a campsite last year am I guaranteed a campsite this year?
No – spaces in the livestock camping area are not reserved from year to year.
How many livestock exhibitor campsites are there?
There are approximately 440 livestock exhibitor campsites available between the various camping areas.
Are all campsites full service?
The inner/Lot 5, outer, and sheep camping areas offer full service (water, sewer, electric) hook-ups. The beef campground offers water and electric only.
Can I make changes to my reservation after I've submitted it?
Yes, but on a limited basis. Change requests must be submitted in writing to campgrounds@mda.mo.gov and are not guaranteed.
When are check in and check out times?
Check in/arrival time is after 1 pm in all campgrounds.
Check out/departure time is before 10 am in all campgrounds.
Livestock Exhibitor Camping Areas Open Aug 6
View campground locations
Absolutely no coolers with alcoholic beverages will be allowed within the inner gates of the fairgrounds.
Contact Us
Have questions? Contact our team for assistance. For information about off-season camping, visit the Missouri State Fairgrounds website.
Sign Up for Updates
Text message updates on weather & other public safety concerns
The Missouri State Fair offers a voluntary email & SMS/text messaging service through GovDelivery. Sign up today to stay informed!